"All the days of the oppressed are wretched, but a cheerful heart has a continual feast." Proverbs 15:15
"So if the *Son* sets you free, you will be free indeed." John 8:36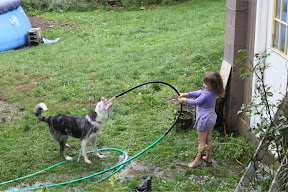 "A joyful heart gladdens the face, but when the heart is sad, the spirit is broken." Proverbs 15:13
"This is the day the Lord has made I will rejoice and be glad in it." Psalm 118:24
A ride down the dirt road, the leaves are falling, and the corn stalks are looming over my head on the right, the hills and black and white cows are to my left and again I'm struck with the beauty right outside the front door. Sometimes I wonder aloud to God if heaven will be like the good parts of the earth. Is that why I think it is beautiful?
Faces of good people, activities of so many, comforting others the ways they have been comforted, in the ways that are unique to them, knowing just what to say, to do, and I wonder aloud to God if this is His way of demonstrating His large heart? That everyone is playing in His game, no matter their location, vocation, and destination? No one is sitting on the bench?
This week I noticed again, thanked again for the little things I think He's demonstrated His table in my life. Thankful for:
~the gift of sisters in Christ who I can confess my faults to and they understand, remind me of forgiveness and grace, and the truth that there is always the next moment to look up and walk afresh in the Lord.
~little guys with energy to run and jump and yell and all the spunk God has put inside their hearts to live with gusto
~the colors of fall bringing warmth to the inside of a home
~hugs from teenagers
~dehumidifiers
~little mister who is too cute for words
~the work of the Holy Spirit
~apples
~family and friendship bonding through football
~Cassandra