Here we are in January and it has been too long since I have written. So much has happened, and some of it in a quick time, or busy time, and my mind and heart are stretched out into so many places.
December shared some special moments with us. It was also a bit of a challenge as the couple of weeks before Christmas we all came down with the flu. That put a damper on my planning and getting ready for Christmas Day and cards and shopping and baking :)
However, Christmas Eve Jeremy read the Christmas story and the little ones acted it out enthusiastically. Cotter lead us in a few carols, and though it was bittersweet in some ways, it was still one I think we will treasure.
Jesus is the reason for the giving and the sharing and the celebrating and He is still our treasure when circumstances don't lend to a perfect Hallmark Christmas (which I really kind of love).
Assembled dollhouse:
New jammies and slippers from Aunt Ann and Uncle Gene:
New Years Eve was cozy as we made some of our favorite foods and watched as much of the Lord of the Rings as we possibly could until we zonked out. I was the first!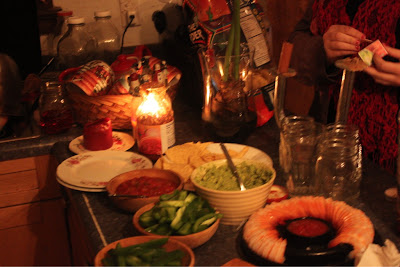 Our dear Hannah has had some changes in her life, but we all agree it is for her very best. My sister told me that her old Pastor said that parenting is a series of painful releasings, and I find this to be very true :) As much as I miss her, it's hard not to see she is in a place to grow and thrive, just where God planted her.
And before she left us, she went and campaigned for this new little kitty. This sealed the deal that she is the best big sister ever.
~Cassandra