The skies are mostly gray, the air was a bit chilly, the sun sometimes poked through. It feels like fall. I've watched and listened to the kids yell and scream while they chased the falling leaves from the trees. The mama deer and her children, we watched from the kitchen window. The hickory nuts we are opening and trying very hard to keep any that weevils haven't gotten to first.
While in the throes of busy and slow, full and fast, I'm trying to catch snatches of time to read. In my lap now, I have The King's Cross by Tim Keller. It's just one of those books I'm finding, that have me thinking, and praying again, for heart change. I wish I had the time to copy out an entire page I've read and reread about love, and how *my life for yours* is the truest form of love, seen and given by Christ. He did this for us. Our example, and more, a transforming type of love. Mr. Keller brings it right to a mom's doorstep when he writes about the ways we choose to live with this attitude while raising our children.
Jeremy and I have been trying to work out a dinner prep schedule. He comes home, the kids are so happy, and on some days he takes them for a walk while I mash the potatoes and set the table for dinner. These early dark evenings have me lighting our mulled cider candle and dimming the lights. The music plays and somehow things somewhat settle for dinner together.
Here are some pictures of a Dad's walk with his little folks. Pictures by Jeremy and Abby.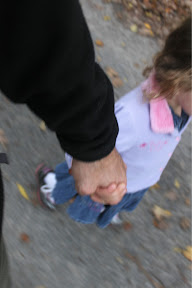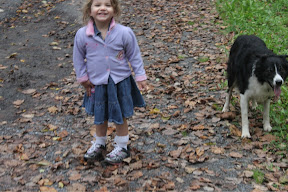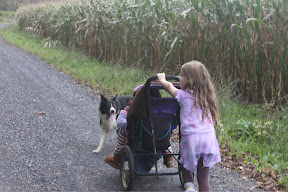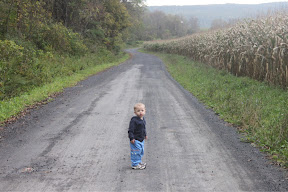 ~Cassandra