Excuse This House ~author unknown
Some houses try to hide the fact that children shelter there
ours boasts of it quite openly.
The signs are everywhere...
For smears are on the windows
little smudges on the doors
I should apologize, I guess for toys strewn on the floor.
But I sat down with the children
And we played and laughed and read;
And if the doorbell doesn't shine,
Their eyes will shine instead.
For when at times I'm forced to choose
The one job or the other....
I want to be a housewife
But first I'll be a mother
Oh, it has been so long since I've talked here! I miss this. And funny thing, I find this spot to think and reflect is such a help to me.
Have I ever shared here how much I love to clean? I *love*a clean house. Maybe a little too much, if it makes me a grumpy woman to be with when the messies take over. We do chores, but the smallest ones keep me on my toes, and I frequently discover messes I was not aware were even possible to make! And I find I'm tired. Weary. Not really just the messies. It's been a fast paced season in many ways. So, I'm letting things shake that need to go, and by God's grace through friendship, remembering the me I've been made to be through His Word and words, books that have been dear to me, I am rediscovering the daily bread the Lord wants to give to me day by day.
The weather has been so beautiful. It's hard to believe this is February!
We had a great time outdoors playing and I sat back and watched the happy kids play.
A six armed beast!
Bannon climbing a tree.
Blue. makes me just melt.
Happy red.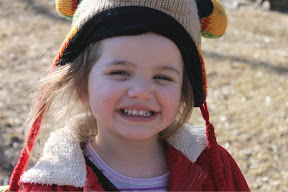 Back inside it was crazy and busy, spinning and whirling while we cut out crowns and decorated them. But it was good busy. The happiness from it that lasted the day made it all worth it.
Simmering soup for our sick family members. I put it in in the early morning to give myself a start, and what a wonderful smell we had to last the day until dinnertime. We had fresh bread with it.
Making paper crowns.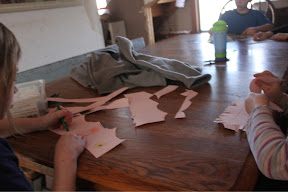 So proud. :)
Sleeping Beauty at nap time.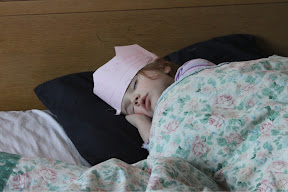 Morning cuddles we've caught on camera. So thankful for the love between them all. These moments really make me feel very rich. I'm hoping we are seeing that old saying come true. "What goes around, comes around."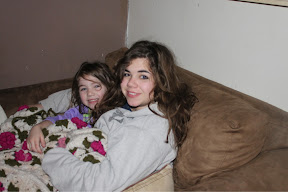 Brother and sister off to the ball.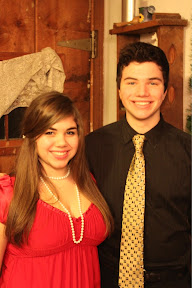 ~Cassandra