Slowing down
To sing and wish
Love and thought to those so dear
Dear Abby had a birthday
And I've been telling her since last year I really didn't want her to turn 8, but she just had to do it, and she makes a beautiful version of it :)
She grows with more and more tenderness, attention to detail. She loves her baby dolls, little stuffed animals, running faster than Bannon ;) and having pets.
I love you Abigail.
The moon was full and Daddy bundled up a few to take on a Winter's night walk to look for an owl. As soon as they were seated on some logs and all were quiet, the littlest one began to cry, so it didn't last very long :) But it was a little adventure truly.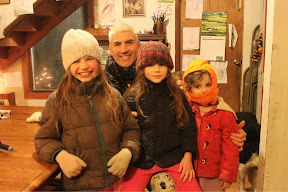 It did snow last night. But the last couple of days were very muddy and the smell of spring was in the air. It makes us all a little giddy to see the new slant of the sun, and smell the scent of warming earth.
~Cassandra