The fire warms us all by day. Oh the days are chilly! It's hard to get any of us away from this place of coziness. The books for school are pulled up, along with the computer chair, and the floor suits some of us fine as well.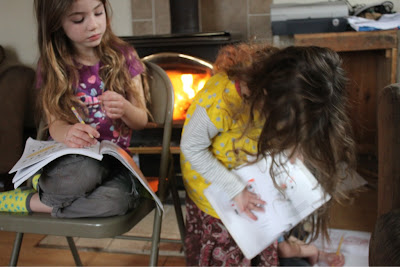 The dear books and their stories are so precious to this Mom. The best parts of my day are when it's one of their turns to sit right next to me or on my lap for their story time. If Jesus Came to My House, Ox Cart Man, A Day in the Life of Sarah Morton, Benjamin Franklin, Seabird, Runaway Bunny. Then just little talks, little pictures, little projects....and I know every day I don't want to miss these times. I am so thankful I get to mother these little people. I really am
Life is busy, but it is good too. The afterglow :) of the days are found in the scattered things that represent what we did, even some of the troubles. Learning crochet, tick removing, legos everywhere, my journaling with a little bit of spaghetti sauce staining the page. A block building Sophie built, and one of Grady's cars are parked right next to it.
We took a walk through the woods just the other day and the girls gathered up some treasures, which Sophia right away began arranging into a fall arrangement. Bella pondered the leaf. It was a beautiful time.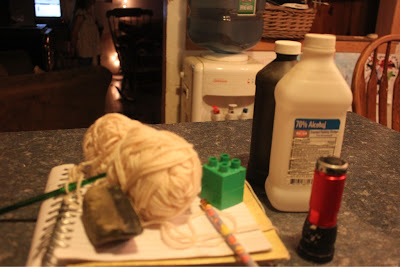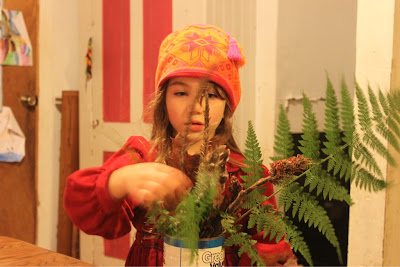 Watching for Daddy to come home.
We've also been watching Narnia and listening to the books on audio. For Halloween the girls wanted to be Lucy and Susan. Bella wanted to be a pink princess. Cotter was the Joker for his senior parade, and Bannon came home and joined the girls with a rat mask and hands, all in a dressy suit. Cotter took Grady down to see Poppy in a Spiderman costume.
Jake had a real time of it with his school project, building a pumpkin trebuchet. We made a little video of the final launching we did here, and all the kids enjoyed it.
The snow is flying tonight, Daddy is working on a guitar background track for Hannah who is singing in a competition tomorrow night, everyone else is tired from an early start to the day and in bed.
~Cassandra